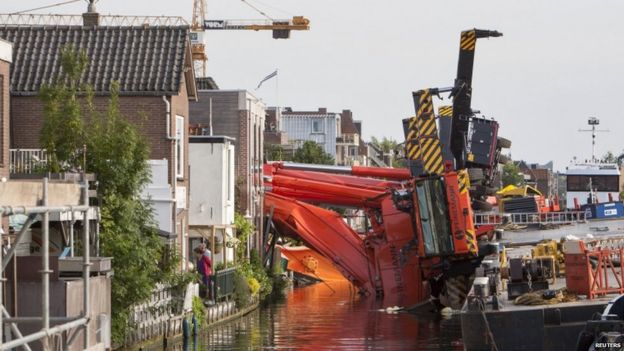 Two cranes employed to restore a bridge in the central Dutch town of Alphen aan den Rijn have collapsed on to buildings with rescuers searching for victims.
An amateur video
showed the cranes, on a pontoon on the River Rhine, trying to hoist a section of the Juliana Bridge and toppling over under the weight.
It is still not known how many people, if any, are trapped in the rubble, the town's vice-mayor said.
Images on Dutch media showed a row of crushed buildings.
Witness Dick van Smirren, who filmed the incident, told the NOS national broadcaster: "You see the cloud of dust arise - that is a terrible image and you think: 'Who is under there?' You can't believe what you see."
De Volkskrant newspaper said a Dutch team normally used for earthquakes and other disasters had been sent to the scene.